rondelles
having a difficult time finding that rondelle that keeps your project in the forefront of your customers doors, walls, installations?
whatever your particular art glass rondelle needs are... we look forward to delivering you exactly what you want how you want it at a price that you can appreciate and justify.
let us make your elusive glass piece for you... 'whatever size, shape, color, texture that you are looking for... we will deliver exactly what you want... and install it...
you can be the creative impression with your own "glass project" or let us help guide you in the creation of your special assignment.
keeping your interests and needs in mind while making your project, your project.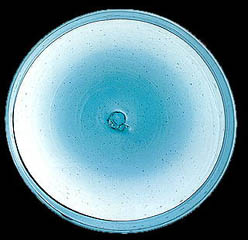 creating your special rondelle starts with molten glass is taken from the furnace with the blowpipe. the amount of the glass gather determines the eventual size in the rondelle. the molten glass is blown out into a small bubble. the circumference of the bubble is the second important factor determining the final size to be produced.
the production of a uniform, high quality rondelle depends on the skill and experience of the "rondel-master". the small, still hot ball of glass will now be attached to a pontil rod and broken from the blowpipe. after reheating it is opened with a pair of shears.
using a special technique the rondel-master then folds the edges, lending strength to the rondelle, making it more workable. spinning the glass, a small, round rondelle is formed. after reaching the desired size, the rondelle is tapped off the pontil rod and slowly cooled in the annealing oven.