contemporary glass

having a difficult time finding that contemporary glass piece that's just right for that special place in your home or office??? whatever your particular contemporary glass needs are... we look forward to delivering you exactly what you want how you want it at a price that you can appreciate and justify.
let us make your elusive glass piece for you... 'whatever size, shape, color, texture that you are looking for...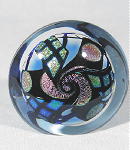 we will deliver exactly what you want...
you can be the primary creative impression with your own "contemporary glass project" or let us help guide you in the creation of your special assignment.
keeping your interests and needs in mind while making your project, your project.